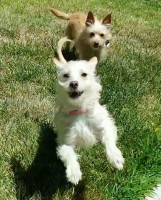 A great place to socialize and have some small doggie fun!!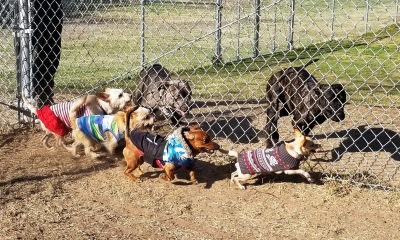 ​​
Our mission is to improve physical health & wellness for all small dogs.
We are certified in Canine Communications and Pet Psychology.
 
We bring small dogs together to experience positive & beneficial socialization skills.
We socialize happy, active and energetic dogs.
We assist small dogs with insecurities, bad behaviors, and shyness.
​​

At our Small Dog Socials, we allow them to make dog pack friends, bark & play

while improving & building positive mental skills, physical stamina, and improve circulation.
Our Canine Communicators can detect problematic behaviors and advise the owner on how to

correct the problem at home with patience, consistency and love.
  
We emphasize the benefits of Health & Wellness by offering education and Resources.

We promote the value of owning a dog; creating fun and experiences with dogs,
and help current owners become better owners.

Our Small Dog Social meets every Saturday year round at different locations.

Join the Small Dog Social -
Sign Up
​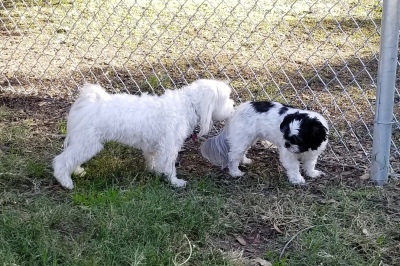 Looking into Your Dogs Past:

Looking into Your Dogs Past:
If your dog came from a litter, or you adopted your dog from a rescue,....
Positive socialization skills are beneficial to a dog's mental development. 
A dog's insecurity can be a result of different influences including genetics, a traumatic experience, limited socialization or even mixed messages from the dog's owner.​ 
​Dogs with insecurities will express themselves through:
Aggression, snapping, anxiety, shyness, depression, lack of trust, lack of interest,

lack of adventure, and sometimes lack of appetite or over eating which may develop diabetes.

Dogs can also develop "Bad" habits such as: 
Excessive barking, excessive jumping, excessive nipping or biting,

dominance to bully, and not listening to their owner.
Without the development of positive socialization skills, what happens to the dog?

Some dogs will never develop positive socialzation skills and stay trappped in their insecurites for the rest of their life.
​
Some dogs get returned to the rescue, and it is harder for the dog to get
adopted out again.  
With overfilled rescue facilities, those dogs get euthanized.
​
Look into Your Dogs Past:

​​Tiny Paws Fresno's​

Small Dog Socialization ​​
Makes a Difference!


GENERAL MEETUP INFORMATION​​
We meet at 4 locations (days and times vary)

​​
Roeding Park - Dog Par
k
890 W. Belmont
Fresno, CA
Free to join the group.
Park Admission: $7 per vehicle daily
Meeting Day:
We meet every Saturday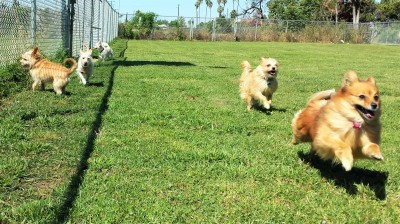 Kids are Welcome at all locations:
Children are welcome to attend, and must be accompanied by a parent or guardian throughout the entire event.

♢●♢●♢●♢●♢●♢●♢

MEETING TIMES: (may vary)

Spring Hours: (March - May) 12pm - 2pm

Summer Hours: (June - August) 10am - 12pm
Depending on the summer heat, some meetings may be cancelled. 

Autumn Hours: (Sept - November) 12pm - 2pm
If the weather is still hot in the early stages of Autumn, such as September or October, the meetings may continue to be 10am - 12pm. Please check each Saturday meeting announcement for any possible changes.

Winter: INDOOR MEETINGS ONLY (December - February)


REASONS FOR CANCELED MEETINGS:

*Spring: Meetings will be cancelled if Rain occurs or Extreme cold (55 degrees or below). occurs AT THE TIME OF THE MEETING.

*Summer: Meetings will be cancelled if Extreme Heat (above 85 degrees) occurs AT THE TIME OF THE MEETING. To prevent heat stroke and heat exhaustion in both our Fur Parents and Fur Kids.

*Autumn: Meetings will be cancelled if Extreme cold (55 degrees or below) occurs AT THE TIME OF THE MEETING.

​​
Cedarbrook Memory Care
1425 E. Nees Ave.
Fresno, CA
Free to join the group.
Park Admission: Free
Meeting Day:
We meet every 1st Saturday of the Month.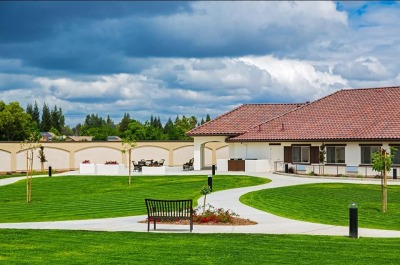 ​​
Sierra Bicentennial Park - Dog Park
84 N. Sunnyside Ave.
Clovis, CA
Free to join the group.
Park Admission: Free
Meeting Day:
We meet once a month on the last
Saturday of the month.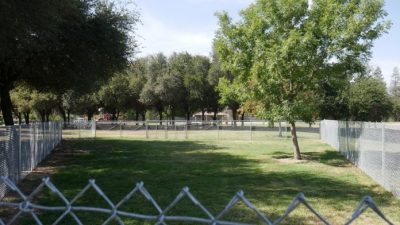 ​​
Kingston Bay Senior Living
Fresno, CA 93722
Free to join the group.
Park Admission: Free
Meeting Day:
Meeitng days vary.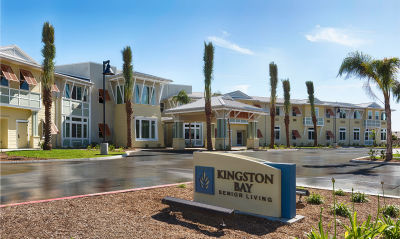 OTHER EVENTS THROUGHOUT THE YEAR:

​

* Potlucks every month March thru November

* September Spectacular Resource Fair

* November Small Doggie Coat Drive:

* November Take a Holiday photo with Jiffy

* December Downtown Fresno Christmas Parade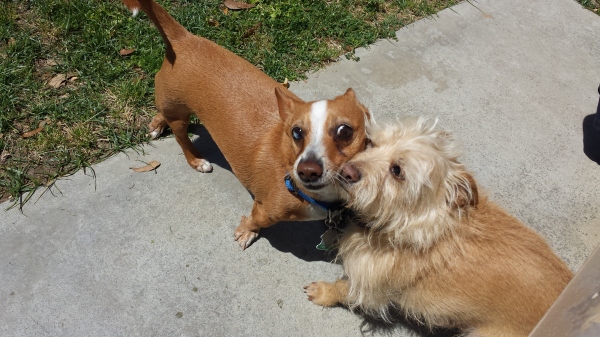 ​​
​​
DOG RULES & INFORMATION:



Small breed Dogs must be
under 35 pounds
to join the group.

NO
LARGE BREED DOGS ALLOWED.


DOG SAFETY:
Tiny Paws Fresno goal is to provide a fun and safe environment for small dogs.
​​


Spay and Neuter:

Dogs that are not spayed or neutered has a tendency to be aggressive towards other dogs to show their dominance. This creates dog fights and potential serious safety issues. It is highly recommended that your dog(s) are spayed and neutered before joining the group.


Nervous Dog Aggression: Sometimes a new dog will snap at other dogs because they are nervous with fear and are establishing boundaries. In most cases, the new dog stops snapping at the other dogs within a few minutes when they feel settled into the new environment with the other dogs. If the dog seems to take a little longer to settle in and the snapping continues, soft and gentle Safety muzzles are great to use. Our Canine Communications specialist will access the action of the dog and make recommendations on how to correct the problem.

Safety Muzzles: Tiny PawsFrenso supplies Safety muzzles that you may use at the time of the meeting. Safety muzzles are NOT to leave the meeting area. Please ask one of our Organizers to borrow a Safety muzzle.
Dog Aggression Severe: Aggressive behavior is not allowed. Dogs that bully, bites, excessive pouncing, or tries to cause harm to other dogs is considered a Severe Aggressive dog. We recommend behavioral training to assist your dog to play and adjust positively to other dogs before attending any of our meetings. Before arriving to a meeting, you may speak to Our Canine Communications specialist, and we will access the action of the dog before they are able to attend a meeting. Email us at info@tinypawsfresno.org to make an appointment for accessment. 

Tiny Paws Fresno is not liable for any accidents or injuries.  




DOG HEALTH:


Dog Vaccinations: For the safely of our dogs, it is required that your dog, must be current on ALL of their general series of vaccinations according to your veterinarian recommendations.*Note: Parks are potentially high risk for germ and parasites due to dogs not being vaccinated. This is why it's important to keep your dog protected and healthy.

Dog Illnesses: If your dog has cold symptoms, sneezing, runny nose, watery eyes, or frothing of the mouth, please do not bring your dog to the meeting. Please seek a veterinarian before attending a meeting to assure your dog is in good health.

Ticks & Fleas: All dog parks have a chance of having ticks and/or fleas because they live in grassy areas. To help reduce the spread of Fleas and Ticks to other dogs, It is required that your dog is given tick and flea control medication before attending the meeting to prevent the spread of fleas, ticks, and potential Lyme disease brought on from ticks.

Dog Poo Clean Up: It is required that we keep the dog park grounds clean of dog poo to prevent spreading a parasite called Giardia. Giardia is an intestinal parasite that is found in stool that is highly contagious to dogs and humans. Please pick up your dog's poo immediately.
Tiny Paws supplies Poo Bags that you may use, so please be courteous of others. (No one likes to step in dog poo).

Come join the fun, and your little ones will thank you!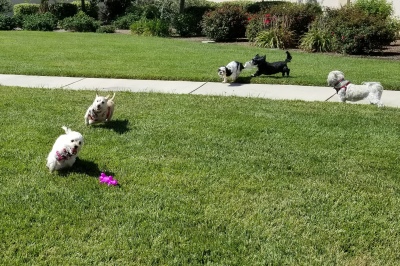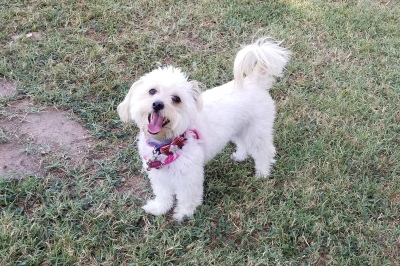 Help Us Raise Funds to Keep Our Small Dog Social Meetings